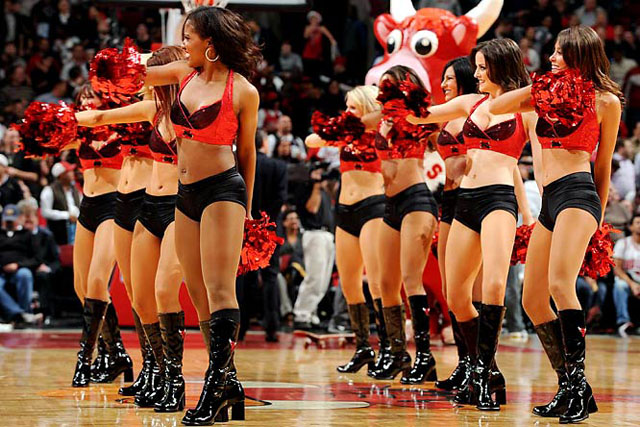 A Chicago toddler known as Bub leveled discrimination accusations against the Chicago Bulls basketball organization after being cut from tryouts for the Junior Luvabulls dance squad.
The Luvabulls are of course the regionally famous cheerleading squad for the Bulls, known for their potent combination of scissor kicks and Annie Oakley-esque mastery of the T-shirt cannon.
The Junior Luvabulls were founded several years ago "to instill young girls with self-esteem, promote coordinated calisthenics and foster an early love of the booty short."
"It was a tight squeeze," Bub said. "What with all this junk up in my trunk."
Though the squad is, by definition, made up entirely of young girls, they maintain they are open to members of the male sex who can "bring it."
"Corporate makes us say that," Karen Jones, Junior Luvabulls coach said. "This kid has about as much of a chance as Wheelchair Wendy."
"Well, we actually invented diversity. We're just waiting on the patent. So there's that," Tom O'Leary, head of Bulls PR said. "I think this particular accuser simply does not fit the image of a Junior Luvabull."
"I think my moves intimidated them a bit, if we're being completely honest," Bub said. "And it's human nature to tear down what we don't understand."
"Well, the whole diaper sticking out of the booty shorts didn't really do it for me," O'Leary added. "And off the record, his back handspring is for shit."
Should he litigiously pursue his way onto the squad, Bub would, at 19 months, be the youngest member by over seven years. We asked his father, Daddy, what he thought of his son being cut from the team.
"Well, he can't jump, so that's self-limiting," Daddy said. "He's like a chicken trying to fly the coop. But he can't fly. So he becomes nuggets. Is anybody else here hungry?"
"I think this kid's only angle is going to be thinking outside the winner's box," O'Leary said. "Maybe we load him into the T-shirt cannon. It could be a whole halftime thing, like catch the baby, win a Crave Case. I'm just spitballing here. We'd need parental consent, of course."
Daddy said, "Mmm, sliders."